Yesterday, during the big announcement, Huawei said when the company's smartphones will be updated to HarmonyOS, and now we give a roadmap with the update of Honor smartphones. As expected, the priority is shifted towards the models of Huawei itself, so the owners of Honor smartphones will have to wait a bit.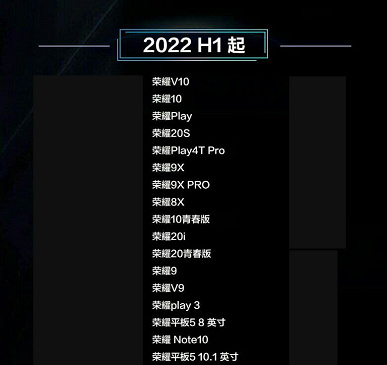 Honor devices to be migrated from Android and MagicUI to HarmonyOS are split into two waves. The first is scheduled for the fourth quarter of this year and will bring HarmonyOS for the following models:
Honor 30 Pro,
Honor 30 Pro +,
Honor V30,
Honor V30 Pro,
Honor 30,
Honor 30S,
Honor V20,
Honor V20 MOSCHINO Edition,
Honor Magic 2,
Honor 20,
Honor 20 Pro,
Honor X10 Max,
Honor X10,
Honor Play4 Pro,
Honor 30 Youth Edition,
Honor Play4.
Honor Pad V6,
Honor Pad X6.
A second wave of renewal is scheduled for the first half of next year. It will cover the following models:
Honor V10,
Honor 10,
Honor Play,
Honor 20S,
Honor Play4T Pro,
Honor 9X,
Honor 9X PRO,
Honor 8X,
Honor 10 Youth Edition,
Honor 20i,
Honor 20 Youth Edition,
Honor 9,
Honor 9 V9,
Honor Play 3,
Honor Note 10,
Honor Pad 5 8,
Honor Pad 5 10.1.
As you can see, Huawei will provide support even for fairly old models – some of them will be 3-4 years old at the time of the update. Interestingly, Honor officials said that even now, after separating from Huawei, they will continue to cooperate with the once parent company regarding HarmonyOS. In other words, Huawei's OS will be used in the new Honor smartphones alongside Android.
…